Follow thejudge13: Why not follow thejudge13 by email. Click on the button at the top right of the page to receive an email when (and only when) a new article hits the interweb. WE REACHED 500 email followers yesterday only in thejudge13's 14th week and just under 400 by twitter.
thejudge13 archive: There have been a number of questions about Nikki Lauda, his time at Jaguar, why Mercedes recruited him…I did a couple of articles around the time of the announcement so if you've joined the site since then, here they are. "Lauda: Ross Brawn's new boss" I wrote this about 2am on October 2nd after reading an online article on a German newspaper site – that was going out the following day. The story hadn't been picked up even on titter to my recollection.
This was a part 2 follow up – written when I was more alert (the next day) and had time to reflect on the  implications. "How Lauda got the top job in Mercedes F1" – my conclusions are now quite interesting post Haug's departure.
Barcelona shafts Valencia: The circuit de Catalunya has over the past 2 years been making consistent noises about how much money it is losing which resulted in an initial agreement with Valencia, also under big financial pressure, to alternate the Spanish GP between them – al la Hockenheim and Nurburgring.
This deal has been agreed with Ecclestone clearly as Valencia's extended contract signed in 2009 meant they would remain on the calendar until 2014. So either they are paying out $30m a year in hosting fee's and not having a race – or the Spanish GP sharing with Barcelona has been agreed with FOM.
Today however, El Mundo Deportivo newspaper reports that the Circuit de Catalunya has inked an agreement with the public institution Diputacion Provincial de Barcelona, providing new funding to the track. "We have a contract to host the GP de Espana until 2016," said Circuit de Catalunya chief Vincente Aguilera, "and we want to keep it.
"Indeed, we are open to negotiating an extension until 2020 with the same conditions," he added. Aguilera told AS newspaper: "We have no desire to alternate. We cannot speak for Valencia, who have agreements with (Bernie) Ecclestone about which we have nothing to say."
Their position on Valencia maybe true, but is unlikely – more likely they can take this stance due to the legal technicalities of the contract. What is clear is that something has definitely changed. I was at the race this year and the stadium section which holds around 60,000 people was barely half full – prices for fans have rocketed – and the world economic crisis has left people with far less money to spend on luxuries like GP tickets.
Maybe Bernie will get his 20 races for 2013 after all – bizarrely down to inter country city jealousy and maneuvering rather than Mr. E banging heads and issuing writs. Didn't see this at all must admit.
Fact: 2013 has 4 South American drivers and only 1 race
Red Bull love in: Sebastian has come out and admitted that his team mate Webber indeed adapted to the 2012 car far better and more quickly than he did. Mark acknowledges this praise and thanks Sebastian. Webber does though point out that his own fantastic drive in the British GP where he overtook the pole position and race leading driver Alonso to take the chequered flag – had a significance we may have forgotten.
"He [Vettel] did it not by three points [won the WDC] – it was lucky that I had overtaken Alonso at Silverstone." quips Webber. Of course had the Spaniards won, he would have taken another 7 points and beaten Vettel in the final analysis by 4 points – but then pigs may have flown and the lion could lay down peacably with the lamb and share lunch.
Abu Dhabi added to GP2 calendar: The 11 round GP2 calendar now begins Malaysia and Bahrain and ends with Singapore and Abu Dhabi – In 2012 it was 12 rounds but gone is Valencia and there were 2 weekends in Bahrain as we remember the trepidation of the GP2 circus being left behind as F1 high tailed it out of there ASAP.
Round 1:
Sepang, Malaysia (March 22-24)
Round 2: 
Sakhir, Bahrain (April 19-21)
Round 3: 
Barcelona, Spain (May 10-12)
Round 4: 
Monte-Carlo, Monaco (May 23-25)
Round 5: 
Silverstone, Great Britain (June 28-30)
Round 6: 
Nürburgring, Germany (July 5-7)
Round 7: 
Hungaroring, Hungary (July 26-28)
Round 8: 
Spa-Francorchamps, Belgium (August 23-25)
Round 9: 
Monza, Italy (September 6-8)
Round 10: 
Singapore, Singapore (September 20-22)
Round 11:
Abu Dhabi, UAE (November 1-3)
Glock in for 2013? I didn't post all the love in's from CHilton and Marrusia announcements because we had it 24 hours earlier. However, if you read the copious print on the Marussia website (LINK) no mention is made at all of Timo Glock.
Glock already has a 2 year deal for 12-13 and so I accept this is a conspiracy theory – probably an oversight as it is assumed that everyone knows he's staying – but a little strange.
Alesi: Jean Alesi has today announced he will not be entering the 2013 Indycar series and will retire from motorsport. Alesi was an exciting driver and was offered a deal by Williams in 1991 which he rejected. There was a mis-translated tweet last night that said Alesi was dead – this resulted in thousands of tibutes from other tweeters.
This happened to me when I thought Kamui had tweeted "another season". The translation software from Japanese was not good – and actually Kamui had announced the beginning of the "Sweet Potato Season".
Alesi now 48, is alive and well and was hoping to race in the Indy 500 this year, but it appears commercial reality and age has finally shut down the ex-F1 French driver, who was part of an iconic era of F1.
Rosberg: Nico may think his biggest challenge is the bull's – I think it's Lewis
Total affirm Grosjean backing : After the Monza ban for Romain Grosjean Lotus sponsor Total reveal they indeed did express doubts about the driver. They had designed a marketing campaign around the GP2 champion, but this was becoming negative with numerous race incidents involving Grosjean. Troubled waters appear to have been calmed, the Frenchman has his drive for 2013 and the petroleum sponsor is back on board.
Jacques-Emmanuel Saulnier, vice president of corporate communications at Total says today, "Total is pleased to support Romain Grosjean in the second year of his Formula 1 career . This is a further step in our relationship which will now have been running for 7 years, since he drove his first laps. "
Grosjean is still apparently on trial as lack of experience will no longer be an acceptable excuse however Total note his meteoric speed in 2012 should translate into a more successful campaign for points next year.
This just proves the power of the media who launched a "7 first lap crash" style story against Grosjean following his coming together with Webber in Japan. This was something thejudge13 always argued was unfair and hyped – if any driver under achieved in 2012 and was fortunate not to be banned for at least one race, it was Maldonado – who without his $36m of Venezuelan oil backing may be struggling to find a seatfor 2013.
Branson honours bet: ESPN is reporting, Sir Richard Branson will serve as an AirAsia stewardess in May 2013 having arranged to honour his bet with Tony Fernandes. The pair agreed in 2010 that whichever of their teams (then Lotus and Virgin) finished lower in the constructors' championship in their debut season, the losing owner would serve on the other's airline. Branson lost as Lotus finished 10th and Virgin 12th, but the trip was postponed in early 2011 after he injured himself while skiing.
Now, Fernandes has revealed that Branson is ready to complete his forfeit, and will do so in May with tickets for the flight set to be auctioned off for charity. "Now here is a man with honor @richardbranson who just contacted me to honor his bet," Fernandes wrote on Twitter. "He will be an airasia stewardess in may on Airasia. 2 years late but main point he hasn't forgotten."
Williams Christmas Dinner: You'd have though having an association with a Michelin star chef, the staff Christmas dinner would look better than this.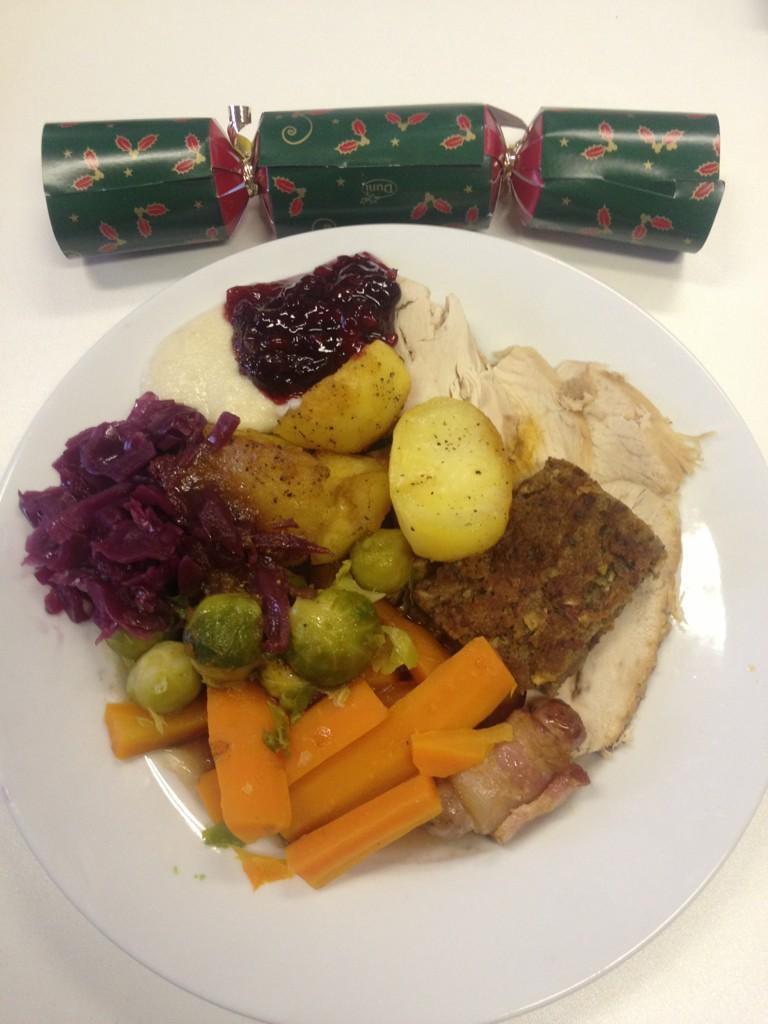 Williams just contacted me and want you to know – it was the canteen staff cooking the dinner and it tasted mighty fine. Oh well, good of them to talk to us. Merry Christmas guys…
Rule Changes: Whilst these are slight a couple are significant. McLaren have summerised them quite nicely. The minimum weight of the car has increased by 2kg. To combat the use of aero-elastic components the static load test will now be applied to all of each team's survival cells, and the front wing test will permit no more than 10mm deflection rather than 20mm.
There has also been a change to the procedure when cars cannot return to the pits under their own power at the end of a track session. The existing rules state that each car must be able to provide a sample of at least one litre of fuel; from now on, if one stops on track, it must provide that quantity plus the amount of fuel that would have been consumed while driving back to the pits.
On the operational front, during practice sessions the Drag Reduction System (DRS) can now only be used in the same areas on track as it would during the race. Working hours have also been tightened up, with the personnel curfew now extending from six to eight hours on Thursday night, and the number of permitted exceptions dropping from four to two for the entire season.
McLaren claim that they develop a new part for the car every 7 minutes 7 days a week 265 days a year.
FIA 2014 rule changes: The FIA announced a couple of weeks ago in Istanbul that they were reversing the original aero rules for 2014 and re-instating those from 2012. Formula One's governing body backtracked on aerodynamic changes for the 2014 season because of fears the next generation of cars would be too slow.
"There was concern that Formula One cars would become too slow," today report Motor und Sport. One problem is that the all new turbo V6 and energy recovery systems will add considerable weight, and more than initially expected, to the 2014 single seaters.
With the 2014 rules, the FIA is reportedly aiming to slow down the Formula 1 cars by no more than five seconds per lap. Any more than that, the German report claimed, runs the risk that Formula One could be genuinely outpaced by Le Mans prototype cars, or the USA based IndyCar Series.
Pirelli 2013 tyres to shake up established order: Pirelli's new tyres for the 2013 season could shake up the pecking order in Formula One. That is the view of  Paul Hembery, who this week was in Sao Paulo to announce Pirelli's new foray in the Brazilian stock car series.
It has been suggested because the technical regulations are not significantly changing over the winter, those teams sucessful in 2012 will be the ones at the front in 2013. But Hembery is quoted by O Estado de S.Paulo: "The tyres next year will be different from those used this year. The walls flex a little more, which will have a significant influence on the aerodynamic performance".
"I don't think the next championship will necessarily be anything like how it finished this year," added Hembery. "I think there will be teams who will look deeply into this feature of our new tyres and I am sure they are racking their brains as to how it affects, for example, the suspension. We saw in testing how the tyres changed the behaviour of the cars.
thejudge13 says – great if they can pull off such a conundrum for the teams that we get 7 winners in the first 7 races. BUT PLEASE stop making such conservative tyre choices in the last 5-6 races of the year.
Haug says F1 team performance was the reason: In an interview with Germany's Bild daily, he denied reports he is being made a scapegoat. "No, I'm not," said Haug, who served as the German marque's motor sport vice president for more than two decades. "If I had nothing to do with our failures in the last three years, then I would have nothing to do with our victory in China this year," said the 60 year old, "and I wouldn't like that."
But why has Haug been axed, and not the Brackley based team's British principal, Ross Brawn? "Because over 22 years I have borne the overall responsibility for motor sport at Mercedes, not Ross Brawn. I am ultimately his superior," he insisted. Haug said he accepts that he must take the responsibility.
"The basis of our car was good, but the development was poor to very poor," he admitted. Haug denied rumours he is actually quitting for health reasons. "Thank god not," the German insisted. "Almost three years ago to the day I had thyroid surgery, but since then I'm doing very well. I'm totally healthy," he added.
He said he doesn't know if his job will now be split into two roles, DTM and Formula 1. "I have no information. Maybe there is a very capable professional who can do much more than I can," said Haug. He played down suggestions ex-drivers like Michael and Ralf Schumacher, or Mika Hakkinen, can fill his shoes. "Honestly, I don't think they were born to be in the office," laughed Haug.
Over to you thejudge13 readers – do you think this stacks up?
On this day in F1, Dec 17th
2008: A very public spat between Ecclestone and Il Padrino – am I having de ja vu?
Bernie Ecclestone, Formula 1's supremo, has struck back with a vengeance against Luca di Montezemolo, after the Ferrari president hinted heavily that he should quit. Montezemolo, also chairman of the F1 teams' alliance FOTA, is sided strongly with Max Mosley and the teams in pushing for more than 50 per cent of the sport's revenue pie.
He was also heavily critical of F1 chief executive Ecclestone's governance, accusing the 78-year-old of not running the sport like a "normal" business. In The Times newspaper, Ecclestone angrily fired back that di Montezemolo should keep quiet about commercial income.
"The only thing he has not mentioned is the extra money Ferrari get above all the other teams and all the extra things Ferrari have had for years — the 'general help' they are considered to have had in formula one," he blasted.
"Ferrari get so much more money than everyone else," Ecclestone continued. "They know exactly what they get, they are not that stupid, although they are not that bright, either. They get about $80 million more. When they win the constructors' championship, which they did this year, they got $80 million more than if McLaren had won it."
Ecclestone said the special deal with Ferrari was agreed amid the 'breakaway' threat of a few years ago. "That's where the $80 million comes in. We 'bought' Ferrari," he explained. "We 'bought' Ferrari's loyalty. Our deal with Ferrari was that we 'bought' them so they would not go to the others."
Ecclestone was also enraged at the thinly veiled attack by Montezemolo about his business ethics, particularly the suggestion that he is not financially transparent. "They have the right to send people into the company and search for everything," he countered. "Ferrari in particular, more than anybody, from day one, have had the right and they've never done it.
"We have bankers here and we've got (owners) CVC checking every single solitary thing. So anybody that starts saying that we've done anything wrong, I'll sue the arse off them," he fired. Ecclestone suggested that Montezemolo might be unwise to push for a meeting to discuss the sport's distribution of revenue.
"What he should do, rather than asking for money, with all the extra money Ferrari gets, he should share all that amongst the teams," he said. As a final scathing thought, Ecclestone attacked Montezemolo's complaint about Canada dropping off the 2009 calendar. "The reason the Canadian grand prix is finished has been discussed with all the teams,
2005
Fernando Alonso announced that he had signed to drive for McLaren for the 2007 season. The Renault world champion said: "It will be a new beginning for me and a tremendous challenge." The announcement did not seem to unsettle the balance at Renault as both Alonso and the team won the championships in 2006. Interestingly, Santander also announced a sponsorship arrangement with McLaren.
1996
Minardi signed Japan's Ukyo Katayama for the 1997 season. Katayama, 33, had been with Tyrrell, the British team, for three years. "I think that Minardi will be a big surprise for many in the course of the season," he said. The only surprise was on the occasions he finished the race in what was yet another deeply disappointing season for the team. We will have no Japanese driver in 2013 – the first time for some while
(This page will be updated through the day – as F1 news breaks)
Help us understand how many people regularly read thejudge13 by following the blog in 1 of 2 ways.
1) You can follow on twitter (box to click in right hand column) if you are part of the twittersphere and retweeting our tweets that announce a new article helps spread the word and keep us high in the # tags we advertise within.
2) Alternatively you can follow us by email. Click on the button at the top right of the page to receive an email when (and only when) a new article hits the interweb.