Follow thejudge13: Why not follow thejudge13 by email. Click on the button at the top right of the page to receive an email when (and only when) a new article hits the interweb. WE REACHED 500 email followers yesterday only in thejudge13's 14th week and just under 400 by twitter.
thejudge13 archive: I started a consultation document to agree the parameters of what we should use as our interpretive grid to establish, "Greatest F1 Drivers". We've had many new readers since then so, here it is again and next week I'll publish part 2 (LINK). Read my starter for 10 and then the comments already made and add your ideas, this article will be co-written by thejudge13 readers. A collaborative work that carries therefore great breadth of source and as such has more persuasive force. You've heard how the camel came into being? A committee attempting to design a horse. So I will have final editorial privileges 🙂
Jordan says Lauda can't have it both ways: Since 1996, Nikki Lauda has been an F1 pundit for German speaking TV station RTL. Jordan questions how he can operate objectively as a journalist whilst working as chairman of Mercedes AMG F1.
Lauda claims he is a 'grown man' and knows how to discharge his responsibilities for both employers. He claims that he received praise for a schizophrenic performance he gave in Brazil, where as RTL journalist he allegedly interviewed himself simultaneously as Chairmen of Mercedes F1.
RTL don't appear to be concerned as spokesman Matthias Bolhöfer explains, "At Mercedes Niki Lauda's role is more strategic than the operational kind of role with RTL. He has been for many years been a fixture with us as an authentic expert with a strong opinion who is more familiar with Formula 1 than any one else". You can't say that is being damned with faint praise I posit.
In the clip below at the British GP 2011, Eddie Jordan offers him a job. Notice the cap he is wearing, he usually gets around 500,000 euro a year from the sponsor's name on the front. These people – not only didn't pay him – but took 500,000 of Lauda's euros for an 'investment' in fine wine and cigars that didn't exist. Lauda threatened in court earlier this year to 'punch' the CEO of the company. Maybe this is an attempt by Daimler to portray their cars as less 'elder statesman' and more 'street fighter'.
<iframe width="560″ height="315″ src="http://www.youtube.com/embed/HGgPRAXIr3s?rel=0&#8243; frameborder="0″ allowfullscreen>
In celebration of Michael Schumacher, here's some Schumacher footage
Ron Dennis talks to Schumacher: I can't believe this got filmed – what do you think?
<iframe width="420″ height="315″ src="http://www.youtube.com/embed/wYI6PFNDFrg?rel=0&#8243; frameborder="0″ allowfullscreen>
Schumacher 1994 World Champion press soncference: How they have changed, I think I liked them better back then.
<iframe width="420″ height="315″ src="http://www.youtube.com/embed/BaHnvXVodsU?rel=0&#8243; frameborder="0″ allowfullscreen>
Schumacher on Senna and Imola
FACT: Half of the F1 drivers for 2013 are French, British and German
Vettel art: The picture below drawn by Sebastian Vettel this year on the anniversary of Michael Schumacher's 300th GP in Belgium sold at auction for 16,000 euros.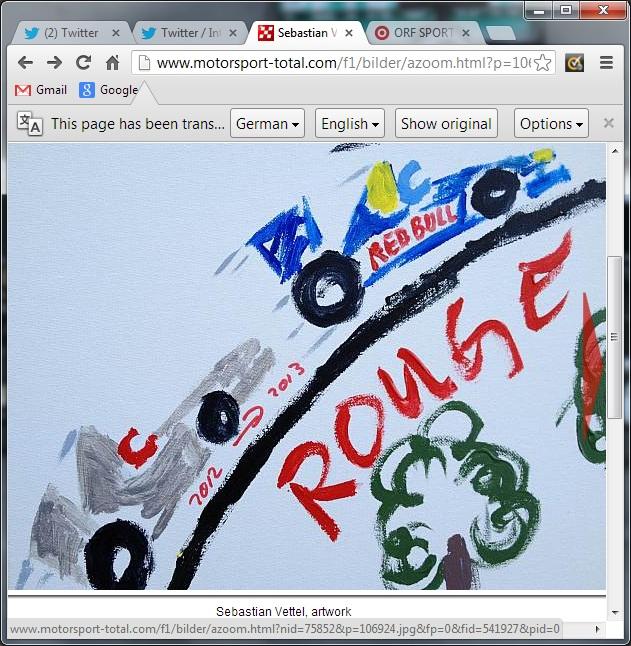 Autosport Vacancies: For anyone looking for a role in motorsport, here's a site worth checking http://thef1poet.wordpress.com/2012/12/17/f1-automotive-motorsport-vacancies-december-17-2013/
Lauda Watch: We're keeping our eye on Nikki and looking for the signs of the inevitable explosion(s) that will occur. The last week saw the resignation of Norbert Haug and I heard last night surprisingly he may be re-appearing elsewhere in F1 in the not too distant future. I could speculate, but that's it at the moment. There was a twinkling eye motif attached to the text and I know no more.
Niki in the meantime is looking to tweak the Christmas holiday plans of Formula One team staff, as he bids to get Mercedes up to speed for 2013. Germany's Bild newspaper said that, since the ex-Jaguar boss started his new job as Mercedes' non-executive chairman, he often "arrives unannounced" at the team's Brackley headquarters.
The report said Lauda, 63, has concluded that "the communication between the departments of the factory is in great need of improvement". Bild claimed that nose for detail that drove Lauda to personally search an Asian mountain for the wreckage of a Lauda Air downed aeroplane has seen Lauda studying the vacation plans of Brackley's 450 staff, with many to be completely absent in December and January.
"Understandable after a long season," said Bild. "But that is when ideas for the new car are needed." Lauda told Welt am Sonntag newspaper: "I am in England very often, right now just to analyse things. "It is interesting that Michael Schumacher and Nico Rosberg were always in the top five at the beginning of the year, and we won in Shanghai.
"Everything was on track until suddenly it was completely backwards. Together with Ross Brawn we have to ensure that never happens again." He also confirmed that Christmas will not be a period for quiet reflection.
"When everyone else is on vacation, I will use the time to do everything to bring Mercedes to the front again, because that's where we belong," said Lauda.
thejudge13 comment: Having been in business many years, the times when I have known people 'turning up unannounced' have in general been times of some confrontation. And even if there's no confrontation, it says to the employees 'I don't trust you'. So this is where Mercedes F1 team is in its relationship with its Chairman.
Further, in the article above, RTL reckons that Lauda's role is operational with them and strategic with Mercedes. Checking all 450 holiday requests cannot in any way be considered strategic. So now is Christmas a time for 'quite reflection' or is it one that's a frenetic period for ideas for the new car.
I watched a Newey TV interview during the Indian GP weekend and he suggested that nothing from the design board could reach the car by Brazil and that all modifications were already in the pipeline. We are 7 weeks away from the new cars rolling onto the track in Jerez. You would think the ideas for the new car are now designed and the work yet to be done is about manufacturing fixes required where design and implementation are not working.
You do have to worry about Mercedes. I would love to see them be strong and competitive but the Lauda culture may not be driving everyone in the same direction – either pull together or pull apart.
Force India 2013 car: Will be revealed in the UK on Friday 1st February, and testing begins in Jerez on Feb 5th
FIA and Bahrain: The FIA is "nervous" ahead of Formula One's still controversial return to Bahrain in 2013. After the 2011 race was cancelled due to civil unrest in the island Kingdom, the sport's return to Sakhir this year was hugely controversial and I know many people in the teams did not wish to attend.
Adrian Newey was conspicuous by his absence and regardless of the rights and wrongs of the politics of Bahrain, for F1 this years race weekend was an umitigated public relations disaster. Apparently "top level figures" at the FIA "are already nervous" that the 2013 race, scheduled for next late April, will be "another horrifying embarrassment", according to Times correspondent Kevin Eason.
"It was a public relations disaster on every level," an unnamed source says. "The race will go on but you have to wonder what will happen this time. The demonstrators were not very organised in April and they probably feel they missed the chance to use the race as a platform. This time, they have plenty of warning that the race is on and plenty of time to make plans. It is fingers crossed time," the source added.
Berger to replace Haug:  Gerhard Berger could be a candidate to replace Mercedes-Benz's departing head of motor sport Norbert Haug. That is the claim of the Swiss magazine Speed Week, specifically naming the former Ferrari and McLaren driver as potentially in the running for Haug's job.
Austrian Berger, 54, was BMW's joint motor sport director last decade, and until 2008 the co-owner of the second Red Bull team, Scuderia Toro Rosso. "We will inform you about everything in due course," a Mercedes spokesman is quoted by the German news agency DPA.
I don't see the point of this as long as Mercedes have Lauda as point man in the F1 team. conspiracists may see the separation of Aabar from its association with Daimler and the selling of its 40% stake in AMG F1 as the writing on the wall for Nikki – who of course is 'Aabar International Ambassador' and they sponsor his cap. If so, Berger could fill the Haug role – but to oust Lauda at this time would surely be embarrasing for the Stuttgart manufacturer.
Caterham boss seems indecisive: In an interview given with F1.com, I've extracted the following quotes from Cyril Abiteboul when questioned about Charles Pic's partner for 2013. "There are different options. One option is someone who he can learn from and who he can use as his benchmark for what we want from both our drivers".
The vacillating Frenchman then continues telling us, "Another option, more radical, is to accept the fact that 2013 is a transition year that we use to continue building the team before a period of greater stability in 2014, when a lot of other things in the package will change. Both types of candidates are out there, and we are close to making a decision".
Reading between the lines, they are waiting to see what happens with Force India before making a decision. Surely if they're destiny was in their own hands they would have made the choice between Cyril's 2 options. My guess is Senna or Giedo van der Guarde. Neither is particularly radical – radical would be more like….????
Question: Which 5 races next year have a home driver?
Lauda at Jaguar : A big thanks to Mike Hutchinson, a thejudge13 reader and twitter follower. Many of you have been asking about how Lauda did at Jaguar. Here's an article Mike found written in August 2001 – enjoy (LINK)
On this day in F1, Dec 17th
1955
Indian billionaire Vijay Mallya was born in Kainataka. In addition to part owning, and acting as team manager, of the Force India team he has numerous business interests including United Breweries and Kingfisher Airlines. His demise in the business world has been recorded regularly on this site. He is also known for buying artefacts of interest to India – In 2004 he paid £175,000 for the Tipu Sultan at a British auction, he returned the artefact to India.
1898
Count Gaston de Chasseloup-Laubat (nicknamed the Electric Count) set the first recognised land speed record in Achères when he drove his Jeantaud electric car at a speed of 39mph (63kph) over one kilometre. His achievement came during a competition staged by La France Automobilemagazine. A month later the Count improved his own record, reaching 41.4mph on the same stretch of open road, but that was beaten ten days later. On March 4, 1899 he regained the crown when he recorded a speed of 57.59mph in the same car, albeit after an extensive rebuild. Again it was a short-lived triumph, as his time was beaten on April 29. While the Jeantaud was the fastest of its time, it had little practical use as its batteries only allowed it to run for a very short period.
Racing drivers seem to die more in December
1994, Henry Banks –  first driver to pass the qualifying "Rookie Test" for the 1936 Indy 500 – he also raced in three Indianapolis Grand Prix between 1950 and 1952. Alongside motorsport he also appeared in two films, To Please a Lady with Clarke Gable and Roar of the Crowd, a movie set around the Indy 500.
1991 – George Abecassis died peacefully at his home in Buckinghamshire. A more than capable driver in his own right, he was better known as the co-founder of the HWM team, whose drivers included Stirling Moss and which entered 46 Grand Prix between 1951 and 1955.
HMW at Oultern Park 1955
(This page will be updated through the day – as F1 news breaks)
Help us understand how many people regularly read thejudge13 by following the blog in 1 of 2 ways.
1) You can follow on twitter (box to click in right hand column) if you are part of the twittersphere and retweeting our tweets that announce a new article helps spread the word and keep us high in the # tags we advertise within.
2) Alternatively you can follow us by email. Click on the button at the top right of the page to receive an email when (and only when) a new article hits the interweb.