Follow thejudge13: Why not follow thejudge13 by email. Click on the button at the top right of the page to receive an email when (and only when) a new article hits the interweb.
Alonso on all things F1: Yesterday Fernando was in the spanish city of Santander and here are the highlights of an interview he gave as reported in as.com.
"It will be impossible to start 2013 worse than this year, but Red Bull will still be favorites to start well. At the end of the year they found six or eight tenths on us and we must recover that in only two months. But the starting point will be better than last year, which is not difficult. There is always room for improvement, there are always things you can evolve. With the experience and technological capability that we have today, there are many factors that can be improved. But the driver is also important."
This is true, and despite being Ferrari the team will be closer at the start of testing in Jerez in under 2 months time. My translating skills are not the best so I'll paraphrase the next bit.
Alonso goes on to say that in 2012 a number of 'others' were close if not over the edge so far as the rules were concerned – but not Ferrari. He then calls his team to close the gap on Red Bull by doing whatever it takes, 'finding the limits of the regulations'.
I think the team did a good job of this, utilising the gearbox penalty in Austin meant Alonso was up to 3rd by the end of the first lap. What did not go well was the slipstreaming they tried in Monza (and a couple of other places) where Massa would be ahead of Alonso and try to give him the 'tow' on a hot qualy lap.
I saw this when I was in Monza, and have to say it looked a bit silly and pretty difficult to do.
On the wind tunnel, "Its closed. We've spent months without it because changes are being made to it. We are using the other one", this is in Cologne Germany – the old Toyota team facility. This has to be a huge disadvantage for the team, and will compromise what they can achieve over the winter.
Targets for 2013 appear ambitious, ""We hope to have a good car on Saturday and Sunday. Hopefully this will be the case 2013. That's the goal, being first and second on both days. McLaren and Red Bull have done this several times as have Lotus – which put both drivers on the podium. We have not been able to do but it is our goal and we will work towards that."
On Brazil and flag-gayte, "I saw the race again. It was necessary to be pressure on the FIA to give an explanation because of the fans interest – there had to be clarity on the matter. The Federation responded and everyone is assured that the decision was correct, but it was like waking the dead".
I have a lot of sympathy with Ferrari on this matter. The Italian press was incandescent about the matter and fans were whipped up into a frenzy of commenting on all the sites and debating the issue. I also understand the FIA didn't need to issue any statement as it was a none event.
Alonso gives thanks – "Give thanks. were always there to give a boost in every race."
Vettel – "He's the fair champion, of course. He has made ​​more points than the other, is clear. "
Say what? "You've got the feeling within some years when you did the job well and some you would like to change or improve for next year. Deep inside I think it was a perfect year, it will be virtually impossible to repeat this again in my career, in the years I have left."
I'm not sure this demonstrates a particularly good state of mind. It's as though Alonso is now resigned to his destiny based on what others do and the car they provide. The problem is that in most top level sports people, the difference between the winners and losers, great champions and the 'also ran' is mental dominance.
Even if Tiger Woods had not had the injury problems he has had over the past couple of years, the belief that he was better than everyone else and that each day he would shoot the lowest score has now gone. Not only does mental dominance affect inward belief, it affects the way others perceive you.
Liverpool FC in the 70's and 80's had  a home reputation at Anfield that literally struck fear into opponents hearts. The sign, 'This is Anfield' dominated the players line of sight as they squeezed into a narrow corridor to gain entry to the pitch. That sign is still there, and the atmosphere at Anfield is still unique – but teams no longer fear the way they did – and this increases the chances of winning.
I hope this is just some Samuri philosophising from Alonso, because he will need to be as good if not better than this year to win another WDC with Ferrari. The quality of contenders and the closeness of the cars in terms of performance will require new levels of mental dominance for anyone to win.
Vettel has shown he has do this, can Lewis and Alonso do the same? We shall see.
Force India 2nd driver: We haven't discussed this for at least a whole day. Last time, the F1 media frenzy was citing that Sutil will make a return. My thoughts were that Senna is in pole position because he brings $10-12m and I'm not sure how much of the extra $80m investment Vijay announced is yet available.
The Finnish media publication, Turun Sanomat, claims that Bianchi is now the front runner for the 2nd seat at Force India. As reserve driver for the team in 2012, the similarities with Bottas and Williams are obvious. Bianchi is 3 weeks older than Bottas and did 9 Friday practice sessions for Force India in 2012.
The reason I've reported this is because there is something new in this version of the 'who goes where' speculation. The writer suggests Force India may be doing a deal to run Ferrari engines in 2014. As you may remember, Torro Rosso, currently a customer of Ferrari will be switching to Renault that year leaving Ferrari with only Sauber as an engine customer.
The thinking is apparently Ferrari will do Force India a good deal on their engines and in return they will put Bianchi in their car for 2013. Bianchi of course has done testing work for Ferrari since 2009.
If you want my opinion, the team would be better served with either Kobayashi or Senna – for different reasons, though Bianchi would be the 72nd French F1 driver which may be a record for a nation in F1.
Di Resta wants top teasm in 2014: I saw this story yesterday and thought it maybe one of those media creations from a spurious comment. Yet on reflection it probably isn't – or at least there is a reason why Di Resta may say such a thing at this moment in time.
Everyone is assuming that DiResta is safe for 2013 at Force India, however, it has not been announced and until then nothing is absolutely certain. So for Paul to make a statement about what are apparently ambitious goals for 2014 and for him to be in a 'better' team – may be that he's just reminding Force India of how good he is.
The problem for Di Resta is not just that he was soundly beaten by Hulkenberg in part 2 of 2012 – once Hulkenberg had got back up to speed in an F1 car after his enforced sabbatical in 2011. Perception, whilst not everything, is very important in F1 – and there is a perception after being rookie of the year Di Resta's year 2 was pretty plodding.
Perez got a big move to McLaren. Hulkenberg has been offered a seat at Sauber. Di Resta has been completely overlooked and is not even confirmed by his own team as driving in 2013.
Paul acknowledges all this when he admits to the Sun newspaper, "The end of my season wasn't great. "Next year is a big one for me, I need to do my stuff because it will be performance based. "I think there'll be a few movements at the top and hopefully I'll be a part of that."
I'm not sure the Sun is the original source of this story as it appears rather minimal in quotation content and a bit disjointed. Yet the message is clear – I've underperformed – I need to do better next year – if I do hopefully a top team will come calling – if not, it maybe THE END???
Support Kamui: The rate of donations has slowed dramatically – only $24,000 in the last 24 hours. The fund is still under $2.2m
Perez thinks he can win WDC 2013: My target is to win the championship already next year with [McLaren]," says Checo. "That takes a lot of work during the season, so it's very important to start my preparation really well with them and try to reach their targets, because I am going to the best team and the best team normally wins," he adds.
In terms of titles, McLaren's recent history would not support they are 'the best team' yet Perez reflects, "This year, they had many reliability issues and if they solve that they will be ready to fight for the title. "I think what I am saying is realistic because the team is capable of putting out a very strong car. The targets have to be high. McLaren wants to win every single race".
"As a driver you are looking for every challenge and I think it's a very good challenge. It's the best team in F1, the best team in the world so definitely a very big challenge." Enough Checo, you've signed the contract and will get paid.
Just like Di Resta, Perez had a very disappointing finish to the season, not scoring a point in his final six races – which of course followed the announcement he was joining McLaren. When asked about a possible link, Checo replies, "People in F1 love to make stories about everything. They always link that to my contract, but it has nothing to do with that because I'm a very professional driver and a very loyal person as well".
Whitmarsh has said several times that it will be a huge culture shock for Perez when he joins the team, but for now the mexican driver is just positive, "So I'm really looking forward to being in Melbourne and to be testing and working with the team, which we will start as soon as possible and I'm sure that we will be fighting for the championship next year."
Team bosses top drivers: Autosport asked each of F1's current team principals to pick their top ten drivers for the season, with points being awarded under the current scoring system of 25-18-15-12-10-8-6-4-2-1. The individual votes are kept secret so team bosses can give a more honest appraisal of their views. So peeps, pick the bones out of this…
 1. Fernando Alonso    269
 2. Sebastian Vettel   198
 3. Lewis Hamilton     177
 4. Kimi Raikkonen     176
 5. Jenson Button      104
 6. Mark Webber        66
 7. Nico Hulkenberg    50
 8. Nico Rosberg       30
 9. Sergio Perez       30
10. Felipe Massa       27
Note: Alonso was voted by the same group as No.1 in 2010 when he looked as though he would win the WDC but was failed by bad Ferrari strategy in the final race. Interestingly, James Allen picks the top 5 in the same order – but gives quite anice commnetary (LINK)
Norbert Haug leaves Mercedes : These are comments from Daimler's site.
"Norbert Haug was the face of the Mercedes-Benz Motorsport programme for more than 20 years. For me, he put his stamp on a whole era and, as a highlight, he was responsible for the successful comeback of the Silver Arrows to Formula One. In the name of the Board of Management and the whole motorsport family, I would like to thank Norbert for his extraordinary commitment to the three-pointed star," said Dr. Dieter Zetsche, Head of Mercedes-Benz Cars and CEO of Daimler AG.
"I would like to thank the best car company in the world for more than 22 years, which never had a single moment without passion for me. I particularly wish to thank the Board for the trust and freedom they have always given me with all my activities. Since 1991, we had tremendous achievements and wins, for which I want to thank all of my colleagues. Unfortunately, with one victory in 2012 since founding our own Formula One works team in 2010, we couldn't fulfil our own expectations. However, we have taken the right steps to be successful in the future. Our team and our drivers will do everything to achieve these goals," said Norbert Haug.
Speculation will be rife on whether this is all part of the 'Lauda' project and whether in some way this is connected with how relationships between Daimler-Benz sporting division and the F1 team are to be managed. Of course the abrasive Austrian is Chairmen of the F1 team and Norbert's role was bigger than this as director of Mercedes motorsport in general – overseeing programmes such as F1, sports cars, DTM, Champ Car and Formula 3.
So unless we hear something about Lauda adopting a greater role within Mercedes motor sport I suspect any alleged connection is for now spurious. Lauda is not a technical man, and it would be crazy to appoint him to the role Haug has been doing for the company. Watch this space.
UPDATE: Haug says in an interview with Schwabe that "it is a decision that the board and I have jointly reached by consensus and Niki had absolutely nothing to do with it". Well that must be that then 😉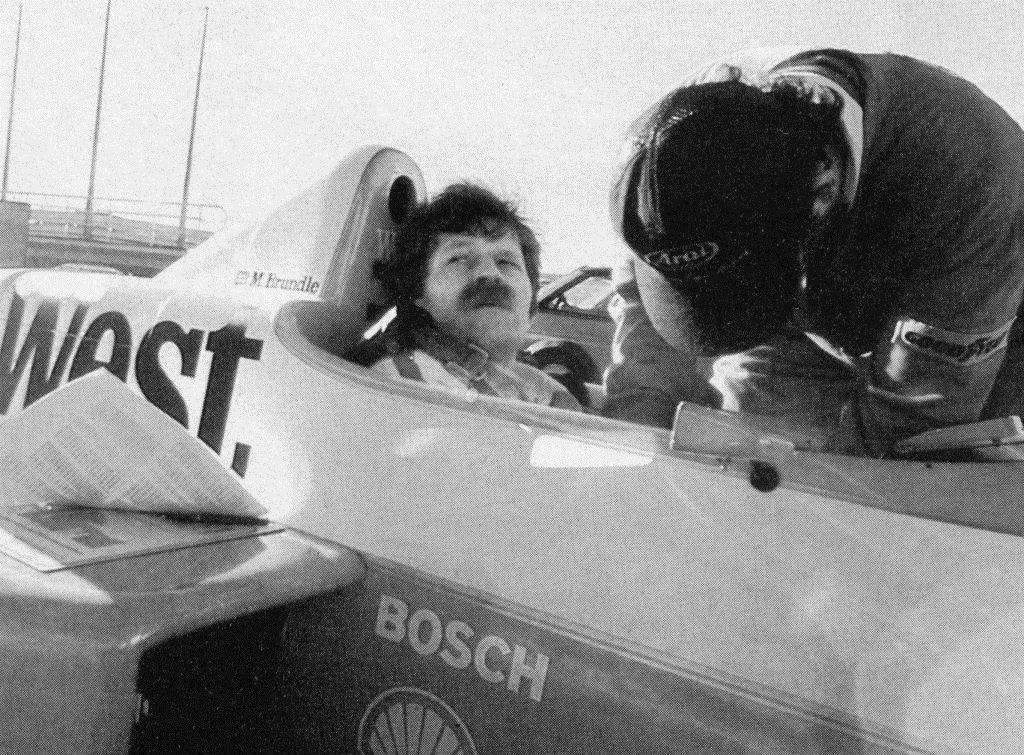 Ecclestone wants 10 teams, not 11: This is hardly comforting for those involved with the Marussia project and again another indictment into the F1 supremo's ability to run the sport effectively. "I'd rather have 10 [teams]" Ecclestone told Reuters. "I never wanted 12. "It's just that 10 is easier to handle, for the promoters, for transport. We'd rather have 10…so long as we don't lose Ferrari." Of course 10 teams would save FOM/BE around $20-30m a year in prize money – surprisingly.
When asked if he thought anyone would step forward and rescue a team like HRT that failed to score a point in three seasons, Ecclestone said: "I wouldn't think that anyone would want to."
Ecclestone repeated that he believed the 2013 season would likely have just 19 races. If you go back over the past couple of months, I have repeatedly stated I couldn't see France and then Austria hosting an event for a number of reasons – the most amusing being Ecclestone first suggested they hold a revived French GP the same day as Le Mans – der!
It maybe that Bernie reads thejudge13 and has finally come to his senses ( 🙂 ) because he made clear that there would now be no French or Austrian GP in 2013, though Turkey (again as I've said all along) is still possible. The Turkish race in Istanbul was dropped from last season's calendar due to disagreements over the hosting fees but the circuit is under new management and is seeking a return.
The current position is that the country's motor sport's federation has said some government funding will be required but Turkey's sports minister has ruled that out and said it is entirely a matter for the private sector to resolve. Yet, it is possible that a deal can be done if the state comes up with a record busting minimalistic $13.5m dollars.
Mr. E isn't sure what's happening, "I don't know. I'm waiting for the response from them," he said.
Marko Watch: Today is definitely getting better by the hour with all this F1 'meaty' news. According to Helmut Marko, Ferrari has damaged its chances of ever luring triple Formula One champion Sebastian Vettel from Red Bull. The background was the perpetual spinning of the story that Red Bull's triple consecutive and reigning World Champion, might one day consider a move to Ferrari.
But outspoken Austrian Marko remarks today to Bild, "Sebastian has the memory of an elephant. He logs everything. And he will remember exactly how Ferrari behaved after the finale". Marko claims Ferrari's charge of Vettel's illegal manoeuvre was "below the belt", and that Vettel himself was unimpressed.
Bild then have Vettel quoted as saying: "You don't want to lose, but you still should know how to. You have to respect your opponent and recognise their good performances". These I seem to remember are old quotes just popped into the story for effect.
However, I'm glad it's not Vettel behind this story, as there have been a number of occasions when he has been criticised for being a little childish – and this would be another. This is just the politicking of the Red Bull owner's right hand man scoring points over Ferrari.
The artiste: Some play guitar, some croon, some make carbon fibre fish and Sebastian is bidding to joining the F1 artistic elite. The picture below will be auctioned for charity it was created on the day of the 7 times world champion Michael Schumacher's 300th GP in Spa – and mischievously shows Sebastian heading up Eua Rouge ahead of the Mercedes driver.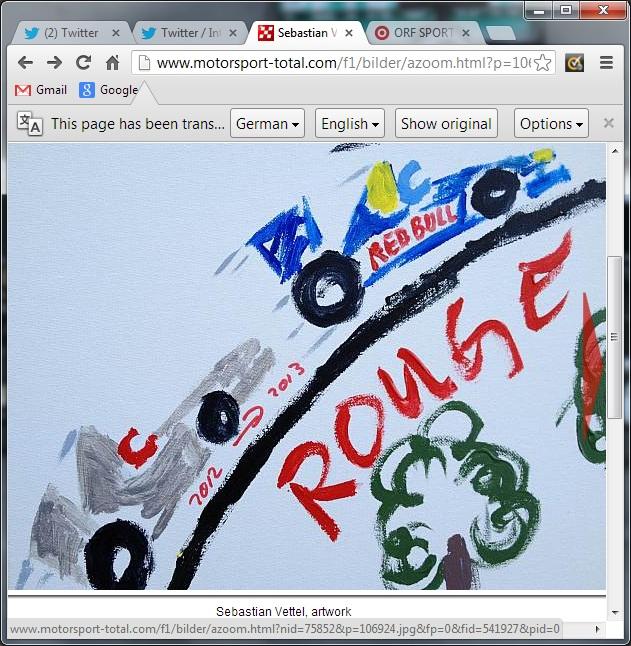 Lowden on 2013: I like Graeme Lowden, and he recently tweeted Adam Parr having read his book which details how Williams went from being nearly bust to financially secure, "Thanks Adam, a real inspiration to me". Here's what he had to say in an interview with Autosport.
"The gap [from us to the rest] will definitely be gone, I'm absolutely convinced of it. Everyone's obviously going to improve over the winter, but the law of physics says the improvement is only going to be so much. The question is, are we predicting fairly major improvements, and yes we are. I'm looking forward to it".
"We just want to be in the mix and racing and I really honestly believe that that's where we'll be next year. We've got a lot to do over the winter but everything's on track. We're genuinely looking forward to Melbourne." Unlike Caterham, Marussia did not run KERS in 2012, and Lowdon reckons it will make a big difference when it uses the system next year.
"It's like a turn-key system. I'm no big fan of KERS personally, I think it was a missed opportunity marketing-wise and an expense the pitlane could've done without. We very nearly beat a team that has it, and we didn't have it. With KERS and with the aero projections that we've got, we can hopefully surprise some people next year".
"Certainly our immediate competitors have been running KERS all year, so they're going to have to develop a pretty good car to defend that gap, let alone improve. From what we can see, the gap [to the midfield] should be closed next year. And that's good for us and it's good for the sport."
Marussia have the Williams KERS system and there should be no configeration issues with their Cosworth engine, as Williams ran with that engine in 2011. I heard these 'catch up' and 'surprise' sentiments from someone in Caterham in Jerez earlier this year – it didn't happen.
But my gut feel is that Marussia are a different set-up to Caterham. Pat Symonds is no mug and he's been directing structural changes in the team and a recruitment programme that he described in August as follows. "We are building that now. We don't want to build it too fast because we want the organisation to grow in a structured and controlled manner. We've got some very high quality people in the team now and it our intention to continue in that vein.
The you have Glock who experienced and can be a quick driver and as yet Caterham only have rookie Charles Pic signed for 2013. I believe that Marussia will overtake Caterham in 2013 because my concern for Caterham is they haven't got the quality of leadership experience of running an F1 team to give them coherent direction and at times appear to get lost in the detail.
On this day in F1, Dec 13th
1995
The FIA announced that the BBC had lost the rights to show F1 – the deal had been won by ITV. Shock waves hit the nation, but it was not the channel change people objected to but the potential loss of commentator Murray Walker. The Daily Mirror set up a hot line for people to call in order to "Save our Murray" – unbeknown to fans Walker had actually signed up to transfer to ITV but was sworn to secrecy.
The BBC, meanwhile, learned they had lost the rights when it appeared in a newspaper. "It came completely out of the blue," said one insider. "We had no knowledge that the negotiations were even under way." Nothing new there then in Mr. E's negotiating tactics.
 1918
American driver Bill Vukovich was born in Fresno, California. "The Fresno Flash," Bill Vukovich, came in to the 1955 Indianapolis 500 as the clear favorite to become the first ever driver to win three 500s in a row after dominating the 1953 and 1954 races. In fact, were it not for a steering failure in 1952 on the 192nd lap, he would have been gunning for his 4th win in a row at the world's most famous speedway.
Unfortunately, it was not to be. While holding a 17 second lead over 2nd place on lap 57 of the 1955 Indianapolis 500, Vukovich was unable to avoid a crash taking place in front of him as he came out of turn two. Vuky's car struck Al Boyd's spinning machine, went airborne, somersaulted over the backstretch wall, flipping multiple times before bursting into flames. The two-time 500 champion was dead at age 36.
He left behind an amazing legacy on several fronts. In the five 500s he competed in, he led an astonishing 71.7% of the laps he drove in competition on the 2.5mi oval and to this day is the only driver to lead the most laps in three consecutive years.
His son, Bill II, went on to drive in the 500 12 times, was named Rookie of the Year in 1968, and had a best finish of 3rd in 1974. His grandson Bill III also competed at Indy, earning Rookie of the Year honors in 1988, and scoring a best finish of 12th in 1989 before tragically being killed in a sprint car race in California in 1990.
You might enjoy watching this on a cold winter (N. Hemisphere readers) night. How television has changed!!!
(This page will be updated through the day – as F1 news breaks)
Help us understand how many people regularly read thejudge13 by following the blog in 1 of 2 ways.
1) You can follow on twitter (box to click in right hand column) if you are part of the twittersphere and retweeting our tweets that announce a new article helps spread the word and keep us high in the # tags we advertise within.
2) Alternatively you can follow us by email. Click on the button at the top right of the page to receive an email when (and only when) a new article hits the interweb.