This page will be updated throughout the day.
Please if you are on Twitter press the tweet button below. If you re-write and tweet individual story headlines don't forget to include #F1
Rossi to drive in FP1 in Austin (04:30)
How to make friends and get elected (04:30)
Williams go one better (04:30) Updated 14:20
The day Jenson will never forget (04:30)
Mansell blasts 2014 weight limit (04:50)
No Toro Rosso for Vandoorne (05:30)
Alonso's next attempt (05:30)
——————————————————————————-
Rossi to drive in FP1 in Austin
The news of Alex Rossi taking over for FP1 in Austin is not altogether shocking news. From a public relations side, it helps to highlights the Caterham brand in America as they look to promote their range of sports cars. Furthermore, it gives Rossi more exposure in his home nation after the GP2 series will have finished in Abu Dhabi.
The young American feels there is a need for an American driver on the grid for F1 to work in the USA. He said, "I think that it will struggle until there's an American driver, just because American people are so patriotic, they're not going to come out or they're not going to spend a year watching or cheering for a German, British or Spanish driver it's not how it's going to work."
Having made 2 practice session appearances for Caterham, at Canada this year and in Spain 2012, he is clearly seen as a project for the future. He replaced Ma Qing Hua in their GP2 setup, managing to finish 3rd on his debut for the team; demonstrating his potential. So could this have ramifications for Heikki Kovalainen?
The Finn had been bullish about his chances of a drive in 2014. Only last month, the former Renault and McLaren driver had stated how he thought he was close to securing a seat. But this award of a Friday drive could be a nail in the coffin of his F1 career. Rossi is an upcoming talent in Formula One, whereas Kovalainen, at 31, has had more than enough opportunity to prove himself.
Incidently, it's his birthday today. Happy Birthday Heikki!
How to make friends and get elected
The breath of fresh air that David Ward brought to the FIA when he announced he would run for presidency was clear for all to see. His straight talking manner and clear cut manifesto meant people had no questions over the direction he intended for the sport to take or how he wanted the body to be run. So as more questions over the partiality of the FIA panel investigating Jean Todt's tactics in the election battle so far, Ward must be sitting back in his armchair rubbing his hands together with how the race is unfolding.
The alleged wrongdoings occurred at FIA meetings earlier in the year as the Frenchman rallied for votes from the nations attending, getting them to sign mass 'support letters' to secure their vote. Todt has denied he has done anything wrong, stating, he "never held a gun to someone's head." However, I'm sure we can all relate the feeling of a high pressure situation and the difficulty of going against the group consensus.
Members of the panel investigating his actions have close links with his family with others having already excluded themselves due to a conflict of interests. Then there is the issue of the who should have the final say on the verdict. The normal process would be Todt to decide, but since he is clearly not in a position to do so, it makes the whole situation rather farcical.
All the while, Ward can do no wrong as he continues to campaign and watch the madness occur around him. It appears the way to make friends and get elected is very simple. Point out the opposition's weaknesses and wait while the dominos continues to fall.
Williams go one better
Williams F1 team posted this on Twitter yesterday. That's one impressive taxi ride…
As was pointed out… and rightly so, where is Maldonado? Well, seems he's been spotted now… rumours may be true that he is leaving Williams after all!
The day Jenson will never forget
On this day in F1, Jenson Alexander Lyons Button became the 2009 World Champion, after finishing 5th at the Brazilian GP. The last champion before the "Vettel era" had made 169 starts before securing the title. This is the second most behind who? (Post your answers below)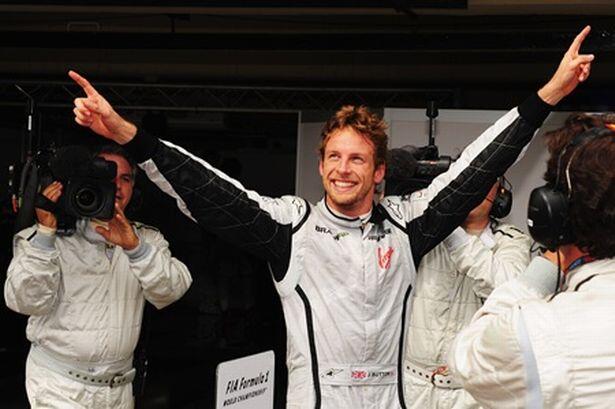 At least we know this year there will be no repeat of Jenson's blast of 'We are the Champions' down the team radio. Vettel celebrates in an entirely different manner, with the orchestrated announcement from Christian Horner. Which would you prefer to hear?
top
Mansell blasts 2014 weight limit
Nigel Mansell has called the 2014 weight limit on the car and driver a 'disgrace'. The man from Worcestershire is not known for understating how he feels about something, and this appears to be no different.
Mansell said, "It's wrong. They are not jockeys." Does the former World Champion have a point? A driver who carries more weight will instantly have more problems in meeting the weight limit than one who is weighs less. McLaren already commented on the problems Nico Hulkenberg would face next year with the new restrictions. However, these seem strange when they already are forced to build a car for a driver who is roughly the same weight in Button.
Furthermore, wouldn't this be the perfect time for a taller (and consequently heavier) driver to exit the sport? Congratulations to Mark Webber whose exit from the sport comes at the perfect time. Having struggled against his shorter (and lighter) teammate for almost 4 years, now would seem like the perfect time to leave the Formula as the disadvantage will only become greater.
No Toro Rosso for Vandoorne
McLaren youngster, Stoffel Vandoorne, confirmed in an interview with Belgian Newspaper, Le Soir, that he has been offered the Toro Rosso seat of Daniel Ricciardo, who is set to transfer to the 'mother ship' team, Red Bull, for 2014.
"It would have only been for a single season and I'm looking for a long-term prospect" the youngster explains his decision to turn down the offer and stay in the McLaren fold. "I'm convinced McLaren is the best option for the future."
It appears the Toro Rosso Chainsaw massacre of 2012 (below), which saw Sebastian Buemi and Jaime Alguesuari axed in one go by Red Bull advisor, Helmut Marko, has affected the views of potential candidates for the team. It seems it will be Antonio Felix da Costa who takes the vacant seat for 2014.
Alonso's next attempt
After the buyout of professional cycling team Euskatel-Euskadi, and with it Fernando Alonso's dream of establishing an Asturian cycling team failed, the Spaniard plans to do it from scratch.
Instead of buying out an existing team he plans to build up a completely new team, which is supposed to be ready for the 2015 season. The presentation of his plan will take place in 2014 – on the first of the rest days of the Tour de France.
Alonso confirms that first sponsors have already been signed, but explains that it isn't any of the sponsors with which he already works in Formula 1. "I think we should keep business in F1 and cycling separated," the Spaniard explains.
If anything, he'll have the attention of the media, that's for sure…