Follow thejudge13: Why not follow thejudge13 by email. Click on the button at the top right of the page to receive an email when (and only when) a new article hits the interweb. WE REACHED 500 email followers yesterday only in thejudge13's 15th week and just over 400 by twitter.
(This page will be updated through the day – as F1 news breaks – new stories will be posted just above the 'on this day in F1' which is at the bottom)

thejudge13 archive: For readers new to thejudge13 while news is a little thin in the winter I'm posting links to articles you may have missed. This show's the dark side of some F1 personnel. "Mallya lives in opulence whilst Kingfisher staff starve and commit suicide".
Pat Symonds and Marussia: We've been looking at Caterham and Marussia in a little more detail recently. Caterham have lost their sporting director, whilst Marussia appear to be consolidating their team nicely.
Add the Williams KERS system to the 2013 Marussia car and Caterham should be worried. I've been expecting an announcement about Pat Symonds for a week or so now, but still nothing on their website.
However, Timo Glock in an interview to German Autoweek last night confirmed that Pat will be joining the team full time for 2013.
The former-Renault director of engineering was banned from the sport following his role in the 'crash-gate' scandal at the 2008 Singapore Grand Prix. However following an appeal, he was allowed to work with a team on a consultant basis – something he took up with Marussia – but will now be allowed to return to the paddock this coming season for the first time in four years.
Glock confirms this is happening when he says, ""On the engineering side we need to be better everywhere. It doesn't mean we are bad at the moment, but to move on you need to improve. We know that we have to improve on-track as well. I think there is a lot of stuff where we need to be better".
The understated announcement follows, "To have Pat at the races will definitely help because he has so much experience, can step back and have a look from the outside, and he's won championships. He can just get into it and we can improve it together. I hope he'll be at as many [races] as possible."
let's hope Bernie stops being childish and gives them something from Concorde like everyone else.
Ferrari in full flow: Whilst everyone else is winding down, Ferrari appear to have forgotten its Christmas with the volume of material coming from Il Padrino. yesterday we he thinks Lewis will have driven for too many teams after Mercedes to go to Ferrari – isn't Vettel on his third?
Oh well and of course the executioner of Ecclestone was in fine form again on this now his favourite topic. Anyway today we have Luca on testing and anything else he's failed to mention recently
"During the year, there were some things I did not like," he said. "I saw cars that did not comply with the regulations, but instead of being disqualified, their teams were told to fix it for the next race.
"Above all, I note with regret that it is no longer possible to have a technology transfer from the track to the road, because in too many areas, development is frozen and because aerodynamics is too important, so that the cars are more and more like spacecraft and less like cars.
"All this is born of a desire to go for the lowest common denominator, something that needs to stop, and is the result of decisions made four years ago, at the time of Mosley, when there was an urgent necessity to reduce costs. With 2014 however, we need to start a new phase – we will see which means of governance Formula 1 will adopt, but we will put forward our ideas very forcefully.
"For our part, a choice which I wanted to emphasise to give the greatest possible emphasis with the Board of Directors, is that we will do all in our power to push for a strong change, to bring Formula 1 back to its role as a real test bed for road car research.
"We will no longer accept this principal of absolute democracy. The gap between the small teams and the big ones is still very big but you can't always do everything at the lowest level – if they don't have the resources or the structure then they should compete in a lower series.
"On this subject, I will put back on the table the idea of selling a third car to the smaller teams, a solution that would allow them to have a competitive car at relatively low cost, which would allow them to attract more sponsors."
Montezemolo has long made his opposition to testing restrictions clear, a stance that is no surprise given that Ferrari has access to both Fiorano and Mugello, but can't utilise them.
"As for testing, it's getting close to ridiculous," he said. "The FIA is not opposed to it, we are not, and so what is the reason for it? There are teams who have put a lot of funding into simulators as have we, while at the same time we have invested heavily at Mugello, which is now one of the nicest circuits in the world.
"In the next few days we will meet Ecclestone and Todt and we will put all these perplexing points on the table. I would remind everyone that test sessions are not just for developing the cars, but are also an opportunity for sponsors and for young drivers. What possible media or commercial interest can there be in testing in a simulator?"
Time for some mulled wine  – wise Godfather – at 65 he's no spring chicken and needs his energy to haul La Guillotine once more up the hill in the new year.
Perez Tooned character released: Jenson's been drinking I think…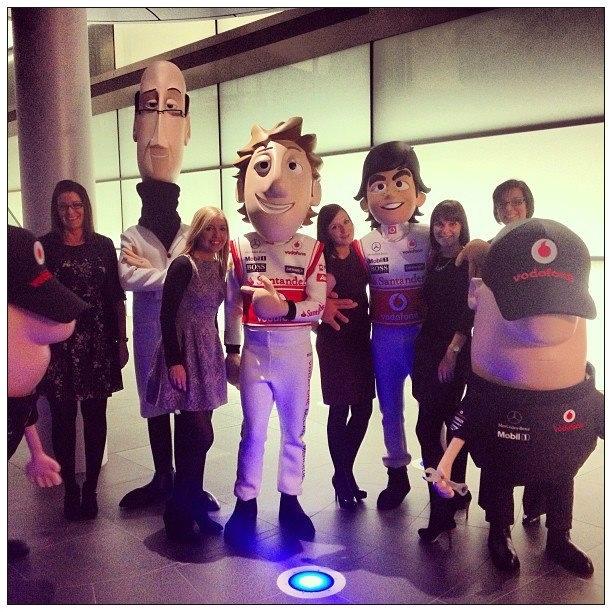 On this day in F1, Dec 22nd
2005
Super Aguri were given the go ahead to join the F1 circus. The team, fronted by former F1 driver Aguri Suzuki, had submitted a late application to join the grid but had to wait to see if there were objections from any other teams. "I would like to thank all of the teams for approving our late entry," said Suzuki. "I assure them that the Super Aguri F1 team will co-operate and do our best to reach your expectations." Super Aguri proved to be anything but super and they withdrew from the championship four races into their third F1 season having scored four points.
1997
A miffed David Coulthard found out that a new £55 Nintendo F1 game showed him as being English. Coulthard was listed alongside Damon Hill and Martin Brundle as being among England's best drivers. A spokesman for Coulthard said: "He has a saltire on his car and his helmet. If they can't spot that, what hope is there? David will really take exception to this. He's proud to be Scottish and will be infuriated."
Help us understand how many people regularly read thejudge13 by following the blog in 1 of 2 ways.
1) You can follow on twitter (box to click in right hand column) if you are part of the twittersphere and retweeting our tweets that announce a new article helps spread the word and keep us high in the # tags we advertise within.
2) Alternatively you can follow us by email. Click on the button at the top right of the page to receive an email when (and only when) a new article hits the interweb.