This page will be updated throughout the day.
Please if you are on Twitter press the tweet button below. If you re-write and tweet individual story headlines don't forget to include #F1.
You may not realise how hugely important this is and has helped grow our community significantly
Mercedes working hard (00:01)
Williams headhunt Red Bull and Lotus engineers
Force India and Sutil to go legal?
Someone's getting ahead of themself
F1 Drivers to get a number for 'life'
Andretti believes in F1 customer cars
---
Mercedes working hard
One would be forgiven to think that Formula 1 teams and suppliers relax and unwind a bit over the festive period. Perhaps not…
Sources close to TJ13 has suggested that Mercedes may not be as far advanced with their engine as what they have led the public believe. Yes it is running on the dyno and shifts seamlessly through the gears however it appears engineers in the Brixworth factory are burning the midnight oil (apart from the turbo they set alight a couple of weeks ago) in order to complete engine mapping among other things.
Mercedes engineers were VERY surprised to see Ferrari run their engine in the back of a 458 as they themselves are not in a position to do that in the near future.
With Jerez testing due to start in just over a month all may not be well for the Mercedes engined teams after all.
So while teams may build a great chassis it is unlikely that the car will be the deciding factor next year, rather the team who's engine supplier has built a bullet proof engine will be a force to be reckoned with.
Williams headhunt Red Bull and Lotus engineers
Whatever F1 fans think of 'Crashtor' Maldonado, his $100m plus of Venezuelan oil cash certainly saw the historic British team through some tough times, and helped to mend their finances. In Though in Formula 1, as in any business, they key to being successful is having the right people and Williams have set about rectifying this problem starting with the engagement of Pat Symonds as the team's Chief Technical Officer.
Symonds replaced Mike Coughlin with immediate effect in July 2013, though both have somewhat of a 'bad boy' history in F1. Coughlin was at the heart of the McLaren/Ferrari 'spygate' affair which cost him his job and Symonds was the Flavio Briatore's side kick at Renault when Newton Piquet Jnr was asked to deliberately crash his car in the 2008 Singapore GP.
Piquet Jnr later claimed "in the presence of Mr Briatore, [Symonds] asked me if I would be willing to sacrifice my race for the team by 'causing a safety car'". Further, Piquet Jnr revealed this was meticulously planned by Symonds as, "using a map, pointed me to the exact corner of the track where I should crash", because "it did not have any cranes that would allow a damaged car to be swiftly lifted off the track, nor did it have any side entrances to the track."
Symonds had been allowed to return to F1 as a consultant Marussia in 2011 before his ban on working full time in F1 expired at the end of 2012. Pat Symonds specialist field is aerodynamics and he is regarded by many in F1 as a gifted leader.
Today, the Williams F1 Team announces they are strengthening the aerodynamics line-up as they head hunt Dave Wheater will join from the Lotus F1 Team to become Head of Aerodynamic Performance. He reports to Head of Aerodynamics Jason Somerville. Also supporting Jason will be Shaun Whitehead, previously of Red Bull Racing, who joins as Head of Aerodynamic Process.
Commenting on the new appointments, Jason Somerville said: "I'm very pleased to have secured the first class talents of Dave and Shaun, both of whom have enviable track records within F1. With the exciting challenges ahead for 2014, I am confident they will both add strength and experience to the team here at Grove."
Pat Symonds adds, "These two appointments show our commitment to both improving the process of aerodynamic development while focussing on the application of that development to true on-track performance.  Dave and Shaun bring a wealth of experience to our team and I welcome them both to Grove and fully expect them to make significant contributions to the renewed competitiveness that we are all working so hard to achieve. With Dave and Shaun on board, and under Jason's stewardship, we will be well positioned to make gains in this important area and support the continuing task of developing the FW36 in what promises to be an exciting year for the sport in 2014."
With Mercedes engines for 2014 (assuming they are ready), Felipe Massa as lead driver and with Symonds at the technical helm, for many the team from Grove may be the dark horse who rise out of the pack to challenge the rest of the mid-field.
Mallya to lose airline
In these times when Enstone employees go unpaid and Sauber's finances are being questioned almost daily by the Swiss media, Force India has been a positive rock of financial stability.
The team's payout in appearance and prize money from FOM this year will be around $70m, which is the cost of building a car and going racing. It appears they will lose around $10m from the sponsors brought by Sutil, but should recoup that and maybe more from Sergio Perez's backers.
Yet in the autumn of 2012, Vijay Mallya promised the team would see a huge investment, "we have shown that every year we get better, so we expect nothing less next season. But it is also time for us to look at capital investment – the board has recently approved a £ 50 million ($75m) capital investment programme for the team. In order to go up the ladder even further we need to have the tools and the facilities, so we are looking at some investments which will start paying out rich dividends in the future,"
Mallya repeated his annual claim to the FT in March this year that he had plans to build a wind tunnel along with other facility developments – one being a new building close to the gates of Silverstone.
Not a brick has been laid, not even a ground breaking ceremonial sod has been turned over. Why? Maybe a better question is 'where is the cash?'
The team benefitted in 2011 from the investment from Sahara, though this cash has now been spent. Further, many of the sponsors are companies from the Mallya empire. Kingfisher, Vladivar, White & MacKay and Royal Challenge. However, how much funding these companies will be allowed to provide is uncertain since the sale of Mallya's United Spirits to Diageo.
The High Court in India has demanded to see details of the deal and stated that it may use Diageo funds to clear the unpaid salaries of Kingfisher Airlines' employees.
The problem is the web of loan guarantees given across the Mallya group of companies is complex and this has made netting off the debts and assets very difficult.
Kingfisher airlines alone is believed to owe $2.5bn (FT March) and the Diageo deal to acquire 53% of United Spirits only would only deliver $1.92m. 17 Indian banks have loaned Mallya and his businesses some $1.2bn and there has been an understandable reticence amongst this consortium to foreclose on the once 'King of Good Times'.
Vijay keeps promising 'ongoing talks with an undisclosed buyer' for Kingfisher, though these assertions are now 3 years old – and no buyer has come forward. The deadlock has been rumbling on for some time, with Mallya's airline having been grounded for over a year now.
Yet time is running out. The Indian High Court on Friday accepted a winding up petition for Kingfisher Airlines from Aerotron, a UK-based aviation services firm, who are owed R37 crore, or $6 million.
Aerotron is among several companies that have filed winding-up petitions in the Karnataka High Court though the court has issued a stay on a request by the State Bank of India who wish to take possession of the company headquarters.
Mallya during the company's annual general meeting in September had claimed again that he was in talks with a foreign investor and a decision on this would be reached in 90 days. The court has granted Vijay just a few more weeks to fulfil his promise and revive the ailing carrier.
Once the winding up process begins, the true extent of Mallya's empire's indebtedness will quickly become clear as everyone with a loan guarantee rushes forward to receive some kind of payment.
For now, there is no more talk of wind tunnels or new buildings being discussed by the Force India team's board. Further, with a guaranteed budget from $80m – plus sponsorship, plus anything Sahara/Mallya can raise – the progression of the team up the constructors' title standings may now have reached its zenith.
2013 cock ups
It's time for the inaugural end of year review of the year's motor sports disasters. We'll widen the category from F1 alone, though F1 related 'fails' are of course appreciated. I'll get the ball rolling with the following.
To make a nomination, post a picture or a link to a Youtube video in the comments section – and to vote for your favourite – use the 'thumbs up' icon to register your approval.
We will run a proper poll next week, with the best suggestions received.
Force India and Sutil to go legal?
Vijay Mallya recently claimed the team would make their driver line up announcements following the Force India Christmas party. Of course, Nico Hulkenberg was confirmed 5 days ago but the Christmas party was last weekend.
F1 pundits appeared to agree that Adrian Sutil was adamant in Brazil that he had a deal with Force India for 2014, "I have a contract and am looking forward to another year in Formula 1." Though Sutil later qualified his position stating, "It's like with any contract that you have in life, it is not 100 percent sure."
Force India have not made the post-Christmas party announcement as promised, though this may be down to Mallya's regular dithering on driver decisions; though it could it be Sutil has gone legal with the Indian ex-billionaire over his contract and no decision can be made at this time.
Mexican Sergio Perez is also widely believed to have a Force India contract for 2014, though either driver could in fact end up at Sauber.
Someone's getting ahead of themself
F1 Drivers to get a number for 'life'
The Formula One's Strategy Group, has been busy over the past week or so. They meet again today and on the agenda is the introduction of permanent race numbers – ie a driver would retain the same number throughout his career. 
There appears broad agreement on this from the teams and newly re-elected (splutter) FIA president Jean Todt holds believes this to be a good idea.
"I support this idea very much and think it would be nice if drivers always have the same number, with the exception of world champion who gets the number 1", Todt tells L'Équipe. "When I watch a Grand Prix, I can see neither the name nor the number of the driver. I know they need the space on the cars for the sponsors, but there are other solutions". Todt suggests a driver's number is displayed prominently on the helmet.
The notion that a driver can be associated with a number is nothing new. Mansell was known for his famous Red 5 and Gilles Villeneuve made the number 27, as did Dale Earnhardt, Jr. with the no. 88 in NASCAR.
In fact the way the numbers are awarded at present only began in 1996. Prior to that each team had designated numbers for their cars and here's some of the traditional team numbers, 3 & 4 (Tyrrell), 7 & 8 (McLaren), 11 & 12 (Lotus), 25 & 26 (Ligier) and 27 & 28 (Ferrari).
Of course were a driver to move from one team to another, their number would change.
The teams could pretty much pick the numbers as they chose, within reason. Early in F1 history there were some odd exceptions and the same driver or team would not necessarily have the same number from race to race – local rules often prevailed.
The highest ever seen on a car in a world championship event was 136 on Rudolf Krause's BMW in the 1952 German Grand Prix. At that race, every car in the Grand Prix was numbered 101 or higher. This was because each car in each support race had its own unique number.
The present suggestion would mean F1 drivers could develop their own marketing around their number, though for this reason its unclear why Todt suggests the world champion would have the number one for that year.
Final Formula E team revealed
Formula E has been trailing it's launch slowly but surely. Throughout the early part of the year, they were revealing a host venue every few weeks and then this moved onto the 10 team reveals on almost a weekly basis.
With 9 teams declared, including the likes of E.DAMS, Audi, Andretti, Super Aguri and Virgin – today the final team is revealed – and it has been trailed relentlessly by Formula E.
"Venturi Automobiles today (9 December) announced a joint venture with award-winning actor and environmental activist Leonardo DiCaprio to enter a team in the new FIA Formula E Championship – the world's first fully-electric race series beginning in September 2014.
Based in Monaco, the new Venturi Grand Prix Formula E Team has been co-founded by DiCaprio and Gildo Pallanca Pastor, founder of pioneering EV manufacturer Venturi Automobiles, together with Bert Hedaya and Francesco Costa".
"The future of our planet depends on our ability to embrace fuel-efficient, clean-energy vehicles," DiCaprio said. "Venturi Grand Prix has shown tremendous foresight in their decision to create an environmentally friendly racing team, and I am happy to be a part of this effort."
The team is centred around the award-winning Venturi Automobiles, a leader in high performance electric vehicles developing a range of sports, urban and utilitarian cars, as well as being the current holders of the world land speed record for an electric vehicle with 495kph (307mph). The team also plans to become a constructor from the second season, building its own Formula E car using a powertrain based on the one used in its 3,000hp electric streamliner – Venturi VBB-3 – unveiled earlier this year in Wendover, Utah, by H.S.H. Prince Albert II of Monaco.
"Venturi has been a pioneer in electric high performance vehicles for more than a decade and Formula E gives us the fantastic opportunity to further improve our advanced technologies through motorsport, as well as compete all over the world," said Gildo. "It also gives us the chance to be part of a new racing programme with a project that really shares Venturi's values for clean mobility, innovation in the field of electric propulsion and energy efficiency optimisation."
"It's an honour and a pleasure to welcome the Venturi Grand Prix team as the tenth and final team of the FIA Formula E Championship," said Alejandro Agag, CEO of series promoters Formula E Holdings. "And of course, I want to give a very special welcome to our Championship to Leonardo DiCaprio. Very few environmental leaders have helped more than him to spread the message of sustainability around the world. Having people like him and Richard Branson – global ambassadors for the environment – is a privilege for our Championship and will greatly help us to spread the use of electric cars in cities around the planet."
Aaaaaaaaaaaaaaaaaaaarrrrrrrrrrrgggggggggggggggghhhhhhhhhhhhhhhhhh!!!!!!!!!!!!!!!!!!!!!!!!!
It had all been going so well. Formula E has been getting pretty decent publicity around all the main F1 reporting outlets. However, this reveal is a tortuous effort of celebrity showbiz razzmatazz which Formula E had avoided thus far.
Still – we presumably have the driver reveals coming next which should be fascinating. Expect some very high profile individuals because the FIA have clearly got seriously behind Formula E and are determined it will work.
Jean Todt is optimistic but at the same time commented, "I'm also worried because if the expectations are so high, it could be a disappointment. I'm cautious, " said Todt. "I think the formula-E drivers are known and very talented, but if a team wants to use a Formula 1 driver for one or two races, why not?"
It's unlikely that a current F1 driver will do more than an exhibition drive in Formula E, as there are clashes on the calendars, when the two series are racing the same weekend in different parts of the world.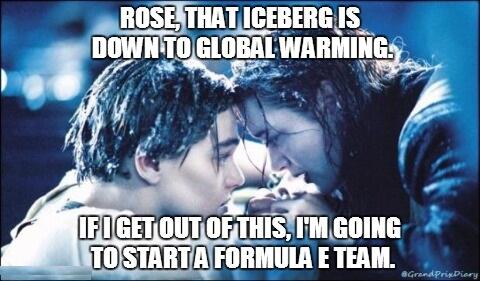 Andretti believes in F1 customer cars
Despite a rather inept performance whilst hosting the podium interviews at the US GP, Mario Andretti is a Formula 1 legend and remains passionate about motor sport. He is famously quoted as saying, "If everything seems under control, you're not going fast enough." 
Well today, the Formula 1 strategy group return to the topic of customer cars and Andretti is uncompromising with his views. "If you imagine opening it up so that any given team could sell to another; to a privateer – maybe just start with you can only sell it to one – you would have teams like my son Michael's that would probably enter Formula One".
Mario is not keen on the ever increasing technical specifications which attempt to restrict the areas of spending open to the F1 teams. "This is a good thing, because I can see that it's probably going to have to happen because the teams could amortize some costs, obviously, and then it's win-win. The team that's coming in doesn't have to have a $200million investment to compete with Red Bull or Ferrari. To me I would see that's what is going to evolve.
That's also what should keep Formula One strong without really deterring the purity of the technical side of it in my opinion. There are better ways to go before it becomes a spec series."
Yet the F1 commercial rights holders don't want lots more teams and speaking about the demise of HRT Ecclestone told Reuters he'd go further. "I'd rather have 10. I never wanted 12. It's just that 10 is easier to handle, for the promoters, for transport. We'd rather have 10…so long as we don't lose Ferrari."
However, Ecclestone does believe that customer cars would be a good thing and blames Williams for continually preventing a move forward on this. Speaking in May this year, F1's supremo stated, "I believe that customer cars will be a good thing. Everybody needs to agree to that but Frank Williams is the one who is against it."
Yet those who know their F1 history will remember that Sir Frank entered F1 by purchasing a Brabham chassis in 1969 and one of his drivers, Piers Courage, finished in 2nd place twice that year. Williams switched to buying a March chassis in 1971.
It wasn't until the Williams FW07 in 1979 that Sir Frank and partner Patrick Head actually engineered their own car, though Lotus aerodynamicist Peter Wright felt the FW07 was merely a re-engineered Lotus 79. The children of the FW07 – FW07B and FW07C went on to win the constructors' title in 1980-81 and the drivers' title of 1980 with Alan Jones.
However, those were very different times in F1. In 1981, 17 'constructors' entered the championship but the season's budgets were far more attainable making this number of entrants possible.
Today, it's monumentally expensive to just develop a car and attend each race. Marussia's spend in 2011 is believed to be close to $110m.
Whether customer chassis' would really create more F1 entrants, or reduce the cost of being competitive is for now a moot point.
More tickets for Austrian GP
The Red Bull Ring is currently applying for an increase in spectator capacity to nearly double the present numbers allowed. Last month, the race promoter put 80,000 tickets up for sale and despite computer problems all were sold within 72 hours.
Tomorrow morning, Tuesday December 10) some more tickets will be on sale at www.gpticketshop.com. The race organiser claims these are cancelled ticket orders from the November sale, but provide no information over the number available.
Interestingly – tickets will be available for all price bands from 95 to 495 euros. The Red Bull Ring have not announced they have now received permission to sell 200,000 tickets for the F1 weekend as they have requested from the relevant authority.